Screen Filter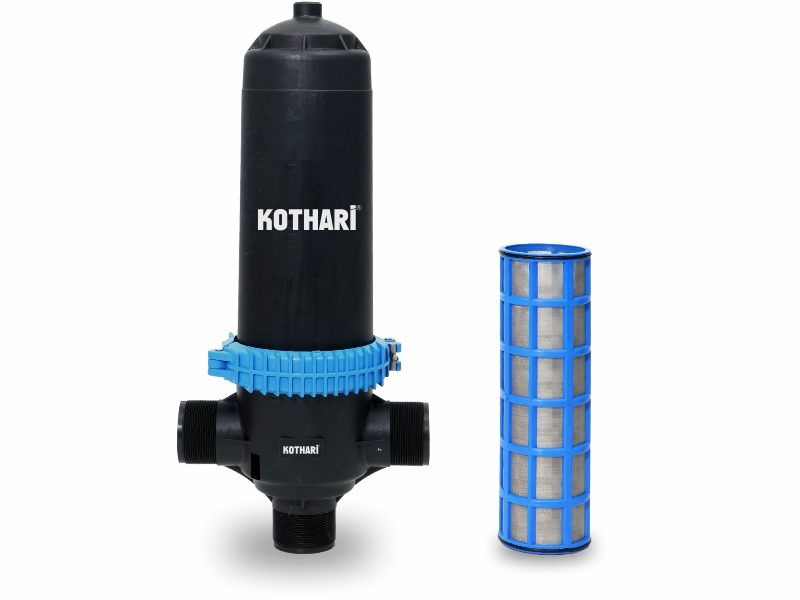 Features and Benefits:
The filters are made from special chemically bonded polymer which are weather resistant.
Clamp made out of reinforced polypropylene with plated steel for durability.
Provided with specially designed vacuum breaker valve to avoid vacuum formation.
Specially designed long handle for easy clamp opening.
Low maintenance & long lasting with low pressure drop.
Bigger port for water drainage.
Applications:
Used as Secondary Filtration for open field sources like River, Lake, Farm pond, Open well and Storage Tank.
Used as Primary Filtration for Tube Well, Bore Well to avoid clogging due to physical and biological impurities.
Available Sizes:
Available in standard mesh of 120 micron size (Other mesh sizes available on demand).
Technical Specifications:
| Size (inch) | Inlet/Outlet Connection (inch) | Filtration Surface Area cm2 | Max. Recommended Flow (m2 /hr.) |
| --- | --- | --- | --- |
| 2″ | 2 | 492 | 25.0 |
| 2.5″ | 2.5 | 831 | 40.0 |
| 3″ | 3 | 831 | 40.0 |
| 3″ | 3 | 1108 | 50.0 |