DCFCO Spreader Fertilizer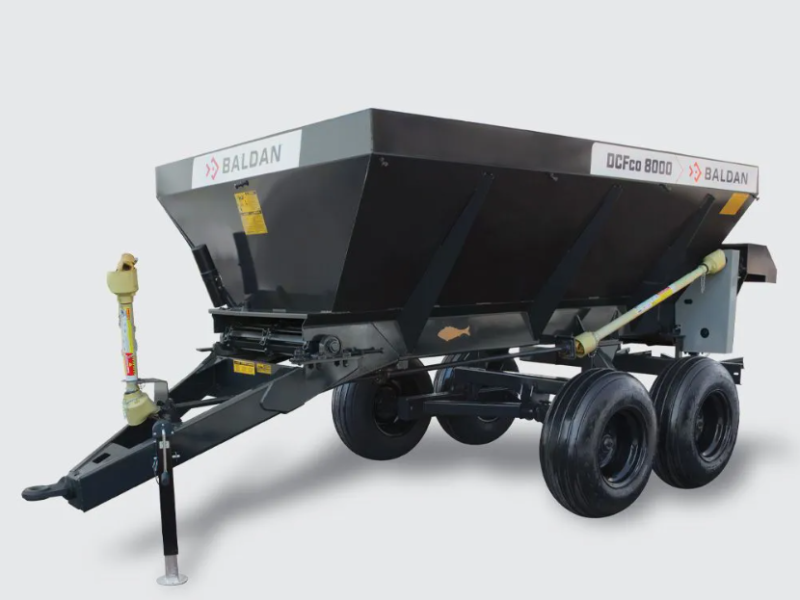 The BALDAN DCF-CO Limestone, Fertilizer and Organic Compound Distributor has a greater load capacity and wider belt for the distribution of organic compound.
Optional
Hydraulic engine.
Tyre 11L-15 (DCF-CO 3000 and 6000). Standard (DCF-CO 8000).
Deflector for application of fertilizer in line, for example, under the trees.
Rubber or canvas deflector for distribution of powder products, ensuring more uniform distribution.
Technical Specifications
| | |
| --- | --- |
| Wheel Gauge (mm) | 1600 |
| RPM on PTO | 540 |
| Cast Steel Belt – Width (mm) | 800 |
| Internal Deflector | Removable |
| Hooks for Canvas Cover | Fixed in the Tank |
Model
Load
Capacity
(m³)
Total
Length
(mm)
Total
Width
(mm)
Total
Height
(mm)
Approx.
Weight
(mm)
Tractor
Power
(Hp)
DCF-CO 3000
1,60
3900
1800
1700
1070
50 – 70
DCF-CO 6000
2,80
4600
2000
1800
1690
75 – 90
DCF-CO 8000
3,80
4610
2000
1900
1480
90 – 100